Since we have a very popular MLP thread and Rare mentioned she liked the idea, here is a cherished part of my childhood in thread form: Thomas the Tank Engine, which has seen something of a revival in interest due to me building a model railway. Heck, this thread will probably die a slow death, but whatever.
A quick intro in case you're new to the series: Thomas the Tank Engine started out as a series of books written by the Reverend Wilbert Awdry, who in turn made up the stories to tell to his son who was ill in bed with measles. A railway modeller and train fan himself, the good Reverend based many of his stories on real-life occurrences.
Wilbert Awdry: the Thomas the Tank Engine Man. 2011 marked the centenary of his birth, with a new Thomas book written to commemorate it.
The books are collectively known as the Railway Series, with the first 26 written by Wilbert and the rest by his son, Christopher, following Awdry's death. Interesting fact: the first character in the Railway series was Edward, rather than Thomas.
The first book in the series, featuring Edward, Gordon and Henry.
You're probably more familiar with the TV series than the books, which was adpated into a TV show by Britt Allcroft and premiered in 1984. The show was pretty innovative at the time, using live-action models for its animation. The show is still going, with fifteen seasons under its belt (although the TV series recently made a move to CGI rather than live-action models- the bastards!)

Thomas in the TV series.
Thomas is something of a phenomenon nowadays, featuring books, toys, TV episodes and even films starring the little blue tank engine. As something I grew up with, much of the earlier TV episodes and books are quite dear to my heart.
In case you're completely clueless, here's a quick rundown of the premise and main characters.
Thomas lives on the Island of Sodor, a fictitious landmass between England and the Isle of Man. Steam Engines find something of a refuge on Sodor as times have changed and many steam locomotives have been scrapped over the years. Unsurprisingly, there is something of a rivalry between the steam engines and other vehicles (like diesels and road vehicles) though at the same time there are characters that happily work alongside the locomotives, like Bertie and Mavis. The engines of Sodor spend their days pulling coaches and trucks, running the railway on the orders of Sir Topham Hatt, the Fat Controller. They also tend to deal with various mishaps and accidents, learning important, child-friendly lessons in the process.
The number of characters in the books and TV show is vast. For now, let's focus on the main ones.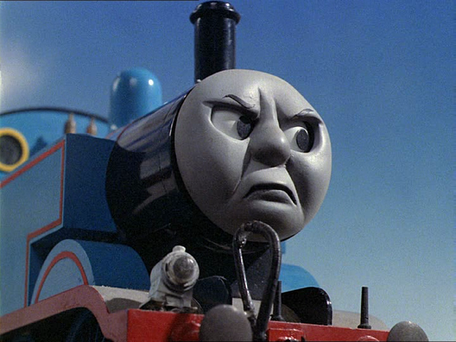 Thomas is the main character: a small tank engine, No. 1 in the main group, painted blue. We meet Thomas when he is playing a rather minor role in the grand scheme of things, tasked mainly with doing the legwork for the bigger engines, like Gordon (fetching coaches, that sort of thing.) Though initially quick cheeky and irresponsible, Thomas eventually learns to be a really useful engine, and is gifted with his own branch line and two coaches, Annie and Clarabel.
Thomas' silly streak has not yet been worn out, but on the whole he is a hardworking, kind and accepting engine on Sodor.
Edward is a mixed-traffic tender engine, No. 2, blue, and the first engine on the scene, chronologically speaking. Though old, Edward is very wise, kind and determined. He often accepts and defends others when others are mean, and never gives up. Count on Edward to do the right thing.
Henry is a large green tender engine, No. 3 in the main cast. Like many engines on Sodor, we meet Henry being silly: in Henry's case, he refuses to come out of a tunnel for fear that the rain will spoil his paint, and is walled up in the tunnel as punishment. When Gordon breaks down near his tunnel, Henry is given a chance to redeem himself. However, his problems aren't over: due to poor design, Henry needs special coal to function properly. A crash whilst carrying fish results in a rebuild.
Generally, Henry is a somewhat immature and cowardly engine, though like most he can be prevailed on to do the right thing eventually. Henry is sometimes plagued with ill health, too, and loves the forests on Sodor. Henry was my favourite when I was growing up.
Gordon the Big Engine, No. 4, blue, is the biggest engine in the main group and is normally tasked with pulling the Express. A pompous and arrogant engine, Gordon considers pulling trucks beneath him and resents any occasions where he must do so. Initially he prided himself on having never had an accident, though sliding into a ditch soon debunked that frame of mind. Most of Gordon's accidents and stories result from his going too fast or refusing to pull trucks.
Regardless of his personality, Gordon's sheer strength and regal nature is undeniable. His accolades include pulling the Royal Train for the Queen in one episode.
James is the only red engine in the main cast, numbered 5. We meet James whilst he is in a spot of bother: set on fire and crashed in a field. In fact, it is Thomas rescuing him that grants Thomas his branch line. He is a very proud engine and often rude and inconsiderate to those around him. He does learn his lesson on more than one occasion, but his proud streak remains undiminished.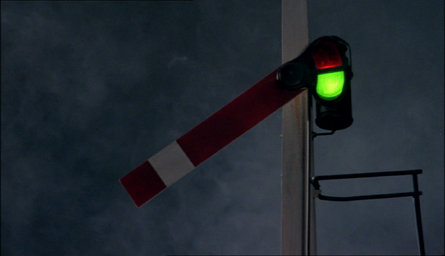 Percy the Small Engine is another tank engine, green, and numbered 6. Percy arrives on the Fat Controller's railway after Henry, Gordon and James go on strike. Thomas' best friend, Percy is a very cheeky, albeit slightly unintelligent engine. His courage is frequently tested, and he has a longstanding rivalry with Harold the helicopter.
Toby is a steam tram and the latest newcomer to the railway, numbered 7. After Thomas is effectively arrested for travelling on a public line without cowcatchers, the Fat Controller buys Toby (whose line is closing down) to do the work instead. Toby often works in the quarries with Mavis the diesel engine.
Toby is like Edward in many ways: old, yet very wise and kind. He is unafraid of hard work, though his age places him at a disadvantage to the other engines. Like Thomas, Toby has a coach by the name of Henrietta.
Naturally, there are many more characters and considerations in the Thomas universe, but these are the main 7 at the centre of events. I apologise if you were familiar with a lot of this already, but I'm going into this thread based on the assumption you're new to the series. In any case, even if this thread isn't really what we're into, it was a way for me to tell you a little about a childhood passion of mine: a passion for railways and trains that is slowly being rekindled.
Finally, here's a link to the very first episode. The user has 173 episodes of the series, which should be enough to be going along with for the time being. But, yeah, if you've gotten this far, thanks for reading and here's to a happy little engine on an island far, far away.